8 Beauty Tips Should Include in your Skin Care Routine
8 Beauty Tips Should Include in your Skin Care Routine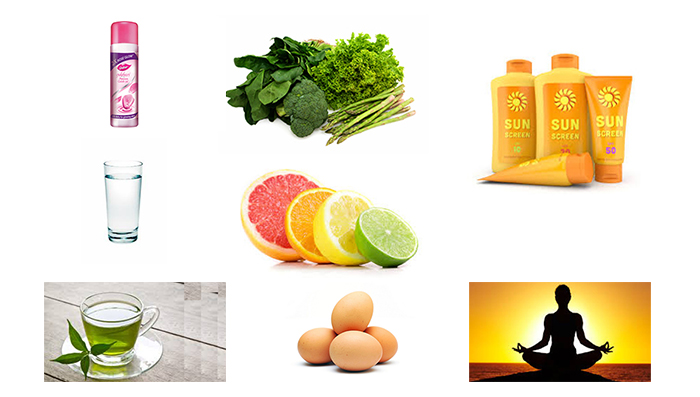 If waking up early in the morning makes you want to hide yourself under the blanket, worry not. You don't have to be an early morning person to be a beauty pro. All you need to do is add these beauty boosting
homemade skin care tips
in your AM schedule and enjoy beautiful skin all day long using these
best skin care products
we have identified for you! Follow this daily skin care routine for glowing skin naturally and effortlessly.
Don't forget the sunscreen!

Lot of women think they don't need everyday sun protection, but the truth is they do, even when it's cloudy! It's high time you realized that the amount of SPF in your makeup isn't cutting it either. You need about a nickel-sized amount of sunscreen for your face alone, and most of us don't pile on makeup that thick. Instead, double up on protection by using an SPF moisturizer under your foundation or powder. And don't forget your lips, neck, backs of hands and eye area. This is an important natural skin care routine tip to add to your daily skin care regime.
Go green!

Following a healthy diet that includes fruits and veggies which are high in antioxidants. They will help battle the damage done by free radicals. Since it's hard to stop the factors that go into free radical production, it's easier to eat right to help your body fend them off. Make sure you include fruits and veggies like broccoli, watermelon, apricots and oranges in your morning regime and to get beautiful glowing skin every day.
Protein

Trade your cereal for eggs or Greek yogurt. It's believed that eating a high-protein breakfast helps women stay fuller longer and avoid overeating later in the day.
Water.

Dehydration messes with the way your skin looks. And specially, after a night's rest, your body needs fluids. Whether you believe it or not, a glass of water every morning can miraculously bring about a big positive change in in your skin and overall health.
Exercise

Women who exercise in the morning sleep better at night. And the beauty benefits of sleep are really incomparable. So no matter how busy your schedule may be, make sure to take some time out for a morning workout.
Citrus up!

Put on a citrus-scented perfume with a hint of orange or lemon and feel the difference. Jumpstart your day with a fresh, upbeat and electric fragrance that will linger throughout the day. Did you know that citrus fragrances reduce stress and even help boost immune function . It's time to rise and shine!
Freshen up your face

Keep a bottle of Dabur Gulabari Premium Rose Touch Face Freshener mist in your fridge and give your face a cool spritz first thing. Why this homemade beauty tip works is - the chilly mist actually helps bring down morning puffiness and leave you feeling bright and awake.
Drink green tea

Boost up your mornings with green tea. Packed with flavonoids, a type of antioxidant, this miracle drink has been shown to slow cell damage and even reduce the risk of certain cancers to an extent. Replace your morning caffeine urge with this and feel the instant difference. Read more about how green tea benefits for hair.
---
*
Fields are required. Make some cool noise, please don't spam and your voice will be heard.
Was this Article helpful?