6 Amazing Benefits of Water for Skin
6 Amazing Benefits of Water for Skin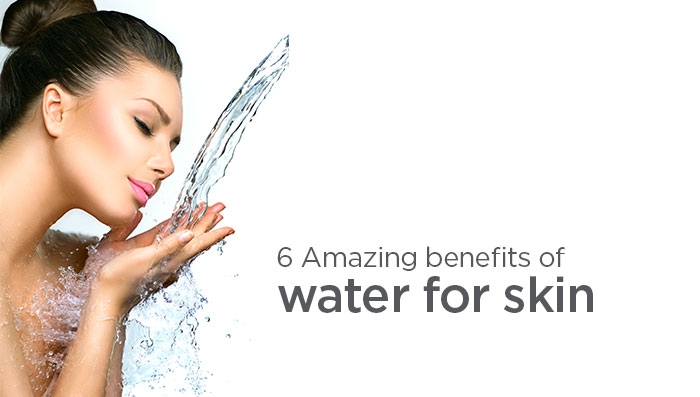 Pure and crystal clear, water is the lifeline of the universe. All of us know the importance of hydration but have you ever stopped and thought about the benefits of water? Just like the rest of our body our skin too is made of several cells. And just like the other organ cells require water to function perfectly, so do the skin cells. Water is not only vital for a healthy body, but also essential for clear and vitalized skin. Having 8 glasses of water a day gives you radiant skin and zero calories. It aids blood circulation and helps in the transport of necessary nutrients to all body cells, making you feel and look good. So let's dive into the benefits of water and also discover some skin care tips that you will be amazed to know.
It helps maintain the optimum skin moisture and delivers essential nutrients to the skin cells. It replenishes the skin tissue and increases its elasticity, delaying the appearance of signs of ageing like wrinkles and fine lines.
Water is a perfect replacement for your expensive anti-ageing treatments. It keeps the skin well hydrated and glistening, thereby, enhancing the complexion. For soft and supple skin, an important skin care tip is to drink more water than applying any kind of anti-ageing cream.
Drinking enough water improves the digestive system by increasing the metabolic rate and combating skin disorders. This in turn gives you healthy and glowing skin.
Rejuvenate your skin by soaking it in nice cold bubble bath that calms the nerves and reduces stress related damage to the skin. Long exposure of the skin to water can strip off the natural oils, so don't shower for a long duration.
Cold water bath eliminates redness of the skin and sets the skin for better makeup application. It also tightens the pores and prevents them from getting clogged. What's more, it reduces the appearance of acne as well.
When you work out, water energises your muscles. If you want your body to not suffer from fatigue, drink a good amount of water to keep your skin hydrated.
Follow these simple
skin care tips and tricks
to keep your skin supple and hydrated. If you want to see and feel the difference make sure to continue the skin care tips routine. Don't forget to share how these worked for you in the comments section below. Also read on
How to get fair skin
naturally.
---
*
Fields are required. Make some cool noise, please don't spam and your voice will be heard.
Was this Article helpful?