10 Amazing Benefits of Tulsi for Healthy Skin
10 Amazing Benefits of Tulsi for Healthy Skin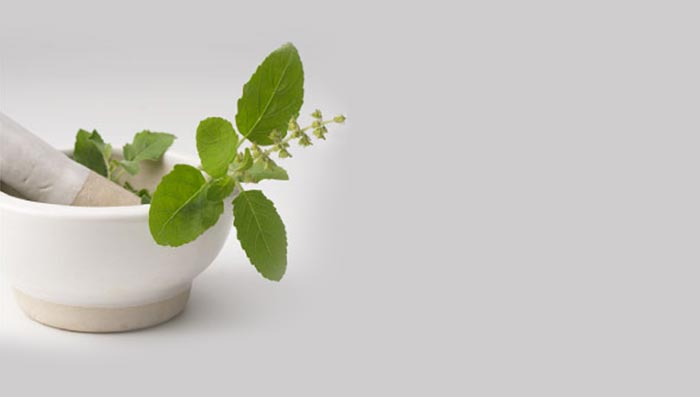 The holy herb, tulsi has a solid place in our household, our heritage and our health regime, but did you know that tulsi can be a vital ingredient for skin care? Yes, apart from the multitude of health benefits like curing respiratory and heart issues, fever, diabetes, digestive disorders, stress and even cancer; tulsi packs in loads of natural skin benefits that take care of everything from eczema to acne. Read on to know more.
For acne
Chew on a few raw leaves, apply a tulsi toner or make a tulsi paste and apply it on your face, the herb works great either ways. It flushes out the toxins in the blood and clears out your face by giving you glowing skin.
For skin lightening
Try this simple skin care tip to improve your complexion. Make a mix of besan and tulsi paste and turn it into a paste with Dabur Gulabari Rose Water. Apply this as a face pack to lighten blemishes and brighten your face.
For a glow
Another skin care tip for an instant glow is to rub dry tulsi power on your face gently, this removes skin impurities, reduces dark spots and gives it an overall radiance.
For inflammation
With anti-bacterial and anti-fungal benefits, tulsi when mixed with sandalwood and rose water makes a fabulous face pack that helps and prevents inflammation.
For a youthful freshness
Packed with antioxidants, tulsi makes you look younger. So the next time you go shopping for skin care products, try one that's got tulsi in its ingredient list.
For tighter pores
To reduce the appearance of pores, try this easy face pack. Take one egg white and the paste of a few tulsi leaves. Rub this mix on the face gently, leave it on for 10 minutes and then wash it off with lukewarm water. The egg white helps in tightening the pores and tulsi disinfects the skin.
For skin diseases
Not just external application, tulsi when ingested gives your skin a bunch of benefits. Try consuming fresh tulsi juice every morning or add powdered tulsi roots to a glass of warm water and drink it up to save yourself from skin diseases.
For healing
Tulsi is also a great remedy for treating a host of skin diseases. Try boiling a few tulsi leaves in some mustard oil, let the mixture cool down a bit and then apply the strained oil to areas affected due to heal wounds, cuts and burns. Apart from its healing properties, mustard oil for face can also be used for skin lightening.
For skin irritation
Got an itch or irritation? Tulsi can help! Apply a tulsi paste mixed with a spoon of lemon juice to get relief from minor skin irritations.
For beautiful hair
Apart from skin, tulsi holds a host of benefits for hair care too. You can try a simple homemade remedy to transform dry and damaged hair to shiny and healthy hair. Add a small quantity of Tulsi oil to Vatika Enriched Coconut Hair Oil and massage it on to your scalp. This doesn't just improve blood circulation, it energises your scalp, reduces dandruff and promotes hair growth.
For tan removal
Wondering how to remove tan with tulsi? All you have to do is create a face pack of grounded tulsi leaves and enough milk. Appl it on the face for about 20 minutes before scrubbing it off.
So go on, and include tulsi in your health and beauty regime, in as many ways as possible and reap the amazing benefits of this wonder herb.
---
*
Fields are required. Make some cool noise, please don't spam and your voice will be heard.
Was this Article helpful?