Top 4 Papaya Hair Masks & Packs: Astonishing Benefits Of Using Papaya For Hair
Top 4 Papaya Hair Masks & Packs: Astonishing Benefits Of Using Papaya For Hair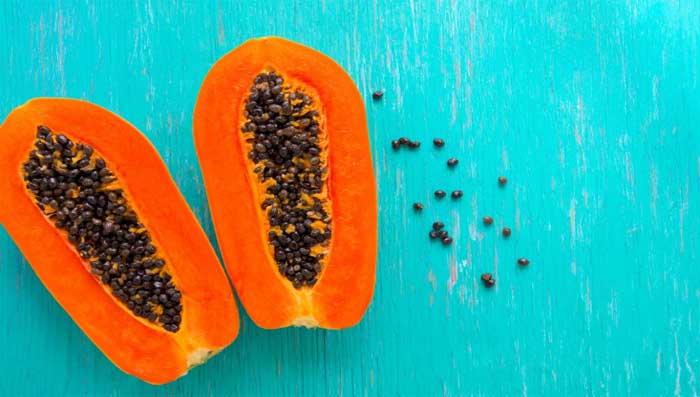 Papaya is known as a wonder fruit. Not only it has immense health benefits but also is great for hair and skin. It rehydrates the skin tissues and follicles giving them strength and vigor. Papaya for hair treatment works like a magic drug and hence lot of natural and ayurvedic hair creams and lotions depend on the tropical fruit for wonders. Read following benefits and hair care tips using papaya.
Video:
Dabur Vatika Shampoo with Satt Poshan (Power of Seven Natural ingredients)
Papaya Benefits For Hair:

Being a very high rich source of nutrients, minerals, anti-oxidants and flavonoids, papaya is loaded with the wonders that make hair shiny, thick and strong. The various papaya benefits for hair are listed below:

Stimulates Hair Growth

Papaya is great for hair follicles that need lot of nourishment to grow. Hence, papaya for hair growth is a must. The folic acid helps improve circulation to the hair and helps to grow long and strong hair. It is always advisable to include papaya to daily meals in order to reap its benefits.

Eliminates Dandruff

Papaya for hair can be used in many ways and one of them is using the seeds to eliminate dandruff. Seeds can be used easily to make a papaya hair mask that helps to control and eliminate fungal infection and cleanses the scalp as well.

Works As Hair Conditioner

Papaya can hydrate hair cells and help them grow in a healthy manner. It also helps to restore the lifeless and dull cells and make then grow into soft and shiny hair. Papayas have a very high Vitamin A content that promotes the production of sebum, body's natural oil.

Papaya has been since ancient times used as hair mask and packs in order to achieve the desired results. Even though many beauty companies today have begun using papaya for their products, it is very easy to incorporate the fruit in daily hair care regime. Below are few of the papaya hair pack and masks that are not just simple and easy to make but also very effective.

Papaya Hair Mask & Hair Pack For Hair Growth

Need more information on how to use papaya for hair, home remedies for thick hair, & how to get long hair keep reading our blog.
Read Also:
How To Reduce Hair Fall
How To Get Glowing Skin Naturally
Face Pack
How To Remove Tan
Monsoon Hair Fall
​​​​​​​
*
Fields are required. Make some cool noise, please don't spam and your voice will be heard.
Was this Article helpful?