How to Wash Hair, The Right Way
How to Wash Hair, The Right Way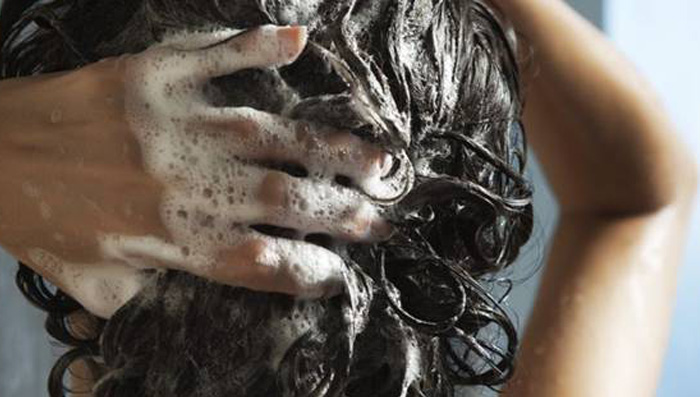 Indians have an early understanding of the importance of oiling hair properly. The word 'champi' which means nourishing the hair with oil and massaging with finger movements, is said to be the root of the word 'shampoo'. Though many people forget their roots, your hair roots still require some effort from your end. Oiling was, is and always will be important for your hair. Learn how to wash your hair the right way with these fundamental
hair care tips
. The entire process can be broken into three parts:
Oiling
Soak your tresses with almond oil. You can use Dabur Almond Hair Oil which keeps hair silky, strong and 100% damage free. The oil penetrates deep into the hair instantly, providing intensive care without leaving a greasy feel.
Massage hair gently in vertical strokes instead of circular motion as it can tangle your hair. Remember to work from roots to tips.
Hair care tip for long hair: Oil your hair tips properly as it protects the fragile hair tips (which are most prone to drying and splitting as the nutrients reach them last) from the harshness of your shampoo.
Shampooing
Rinse your hair in warm water before you begin to apply shampoo. Hot water opens the cuticle so that any dirt or chemicas trapped in them can be removed. It also gives an opportunity to absorb the oil properly.
Use a mild and natural shampoo like Vatika Black Shine Shampoo which makes your hair lustrous. Lather up at the scalp only. The hair closest to the scalp is the youngest and will inevitably be the oiliest, while the end of the hair is the oldest and usually driest, most fragile part of the hair.
Friction can permanently damage your hair's cuticle, leading to breakage and frizz so be gentle with them. Increase blood flow to the scalp and stimulate hair growth by using vertical strokes with medium pressure.
Rinse your hair.
Conditioning
After you have rinsed your hair, remove the excess water and apply some conditioner again in vertical strokes but only from mid-length to the tips. Your roots already have natural oil in high concentration as well as the oil that was used to nourish them.
Keep it for 5 minutes before rinsing.
Important hair care tip: Always rinse with cold water so as to close the cuticles. This helps in preventing any dirt or bacteria from accumulating at your hair roots and thus dandruff or other such infections stay away from you! This is an important step as it also ensures lesser hair fall.
More Hair Care Tips
Use a shampoo that is best fit for your hair type. Choose one from Dabur's range of natural shampoos.
Try and minimise the number of times you wash your hair. If you have oily or fine hair, you may need to shampoo every alternate day. Normal or dry hair should be washed no more than 2-3 times a week.
Don't fall for the marketing gimmick of "Lather, rinse, repeat." It just makes you want to use more shampoo. One time is good enough!
Don't rub your towel against the hair. Towels are often abrasive. Use an old knit t-shirt instead. Gently squeeze our excess moisture and then let it dry in the air.
Don't use hair dryers very often.
Don't brush your hair when it's wet. Use a wide comb to gently smooth your hair after towelling the excess water.
Photo Credit:
1
*
Fields are required. Make some cool noise, please don't spam and your voice will be heard.
Was this Article helpful?