How to Use Egg for Hair Fall/Loss
How to Use Egg for Hair Fall/Loss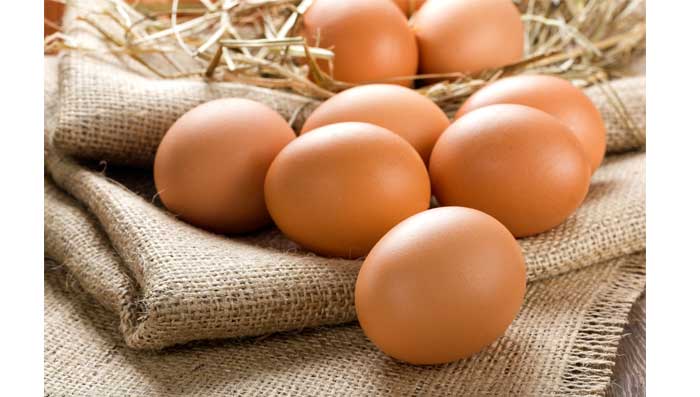 Eggs help to restore the natural oils in hair and help in strengthening the hair roots that add a natural shine to the hair. Egg protein packs are easily available and easier to make at home as well. Egg yolk acts as conditioner that helps in making hair follicles stronger.  Different parts of egg can be used to treat different types of hair. For those who have oily hair, they can use egg whites in abundance to remove excess oil. For dry hair, an egg yolk hair mask is the best way to condition hair.
Video:
Dabur Amla Hair Oil for Strong & Beautiful Hair
Apart from directly applying egg on hair there are different home remedies that can be prepared by mixing various other ingredients to make the hair look and feel great. Just try these remedies to know how to use egg for hair fall control.
Egg Mask for Hair Loss/Fall:
EGG & YOGURT HAIR MASK

Egg and yogurt both team up together to give soft and silky hair. This is one of the best egg masks for hair fall and can be easily made at home. Yogurt is known to condition hair and add smoothness to the texture of the hair. Egg on the other hand, with all its nutrients and amino acids, helps in strengthening the roots.

Ingredients

1 egg
1 tablespoon fresh yogurt

Method:

In a bowl take one beaten egg and mix a tablespoon of fresh yogurt in it
Wet the hair completely and apply the mask starting from hair roots and gradually going on to the tips
Cover head with a towel and keep it on for an hour
Wash hair with herbal shampoo and use this method of egg for hair loss at least once a week to see your hair grow thick and strong over a period of time

EGG & OLIVE OIL MASK

Eggs and olive oil both nourish and strengthen the hair follicles permanently.  This egg mask for hair loss also helps in retaining the natural moisture on the scalp and maintaining shine on mane.

Ingredients: Method:

In a bowl beat an egg and add a tablespoon of olive oil
Mix it in a blender to make a smooth paste
Apply the paste on wet hair starting from roots and go on till the tips of the hair
Keep the mix on for 40-45 minutes and wash off with mild shampoo
Repeat the process weekly for desired results

MAYONNAISE & EGG MASK

For those who constantly suffer from hair fall also have a problem of dry scalp and dandruff. Egg for hair loss and dandruff is a very good formula for silky, thick and dandruff-free hair. So mixing mayonnaise and apple cider vinegar with egg makes sure that the scalp remains moisturized and free of bacteria-producing dandruff.

Ingredients:

1 tablespoon mayonnaise
1 egg (beaten)
1 tablespoon apple cider vinegar

Method: 

In a bowl take a tablespoon of mayonnaise and to it add a beaten egg
Then add a tablespoon of apple cider vinegar and make a mixture
Apply the mixture to the hair gently and give a massage for 10 minutes
Keep it on for another 30 minutes and wash hair with cold water
Repeat at least once a week as this is the best way to use egg for dandruff and hair fall

EGG & HONEY MASK

Honey is a natural antioxidant like egg and helps keeping the scalp clean, hydrated and moisturized. It also increases the flexibility of hair strands, and hence prevents hair fall. Honey also helps in fighting off bacterial and fungal infections.

Ingredients:

1 tablespoon honey
1 egg white

Method:

In a bowl, break an egg, separate the white from it and whisk it smoothly
Then add a tablespoon honey and mix well
Apply the mixture all over the hair and scalp. One how to how to apply egg on hair to reduce hair fall, one should always start with the roots and end till the tips
Leave the mixture on hair for at least an hour and wash off with cold water
Repeat this best method to use egg white for hair fall at least twice or thrice a month for effective results

EGG & LEMON HAIR MASK

If there are questions on how to use egg for hair fall in the easiest way, try this mask. Lemons are loaded with vitamin C, folic acid and antioxidants and hence help in promoting blood circulation on the scalp and clean the hair roots, thereby strengthening them.

Ingredients:

1 egg
2 tablespoons freshly squeezed lemon juice

Method:

In a bowl break an egg and whisk it properly
Add two tablespoons of fresh lemon juice to it and mix to make a running paste
Apply the mixture to wet hair properly, massaging gently for 5-10 minutes
Leave the mixture on for another hour and thereafter wash with cold water
Repeat the process weekly for faster results

EGG & CASTOR OIL MASK

Castor oil has ricinoleic acid compound that helps in promoting hair growth and strengthening skin cells. Castor oil also helps in keeping bacterial infections off the scalp, thereby keeping problems of itchiness, dryness, oiliness and other scalp infections at bay.

Ingredients:

1 tablespoon castor oil
1 egg

Method:

In a bowl take egg and castor oil and whisk
Apply the mix to the hair and leave it to dry for 1-2 hours
Wash the mix off the head with a mild shampoo followed by a conditioner
Repeat the process at least once a week for strong, shiny hair and problem free hair

GRAM FLOUR & EGG MASK

Gram flour is a natural remedy that works as well on the hair as it does on the skin. For those with dry and dull hair, this hair mask will deeply nourish the hair and give them volume as gram flour helps in cleaning the hair completely and stimulate growth of well-conditioned hair. This is one of the best egg mask for hair fall.

Ingredients:

1 tablespoon gram flour
1 tablespoon fresh yogurt
Few drops of lemon
1 egg

Method:

In a bowl beat an egg and add fresh yogurt, gram flour and a few drops of fresh lemon juice to it
Mix it properly and make a paste
Apply the paste on hair and leave it on for 40-45 minutes
Wash with cold water followed by a mild shampoo and conditioner routine
Repeat the process weekly for desired results
These are few of very easy and handy home remedies that not just help strengthen the hair and prevent hair from falling but also nourish them deeply. But applying these remedies alone cannot give you soft, silky, long and beautiful hair. You need to follow a regime of oil massage and washing your hair with herbal shampoos on a regular basis. Make sure to not wash your hair frequently, 2-3 times a week is good enough, as excessive washing can deplete the natural moisture content of the scalp. To regain the lost moisture and health of the hair, use the new improved Vatika Health Shampoo with the benefits of Satt Poshan. Enriched with the goodness of natural and hair-friendly ingredients like amla, olives, almond, shikakai and henna among others, it provides the hair with all the nourishment they need to grow thick, strong, beautiful and problem-free.
Need more hair care tips on how to use egg for hair fall? Keep following our blog.
Read Also:
Ginger Benefits For Hair
*
Fields are required. Make some cool noise, please don't spam and your voice will be heard.
Was this Article helpful?