Top 10 Home Remedies on How to Repair & Fix Damaged Hair
Top 10 Home Remedies on How to Repair & Fix Damaged Hair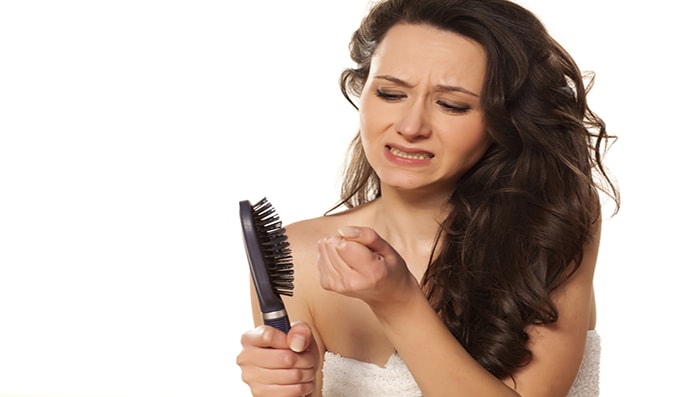 When your hair gets damaged the first thing you feel is sadness. It's like the world is crashing and you can't save it. We know how hard it is to avoid dryness and damage when you are reluctant about your hair. It is a must to protect and take care of your hair.
Video:
Benefits of Almond Oil for Hair / Fix Damaged Hair with Dabur Almond Hair oil
Each strand of your hair has three layers. The outer layer is called cuticle which when damaged becomes dry and brittle. The usage of chemicals, pollution, heat and the harmful UV rays of the sun are the combined factors, which leave a bad repercussion on your hair. We know it is heartbreaking to see your hair becoming dry, lifeless and brittle. Well, worry not! There are remedies on how to repair damaged hair and bring it back alive. Read more natural hair care tips at our blog.
Try These Home Remedies For Damaged Hair And Get A Bountiful Hair.
Home remedies always come handy. And why not? These are effective methods, which bring no side effects. Here we will tell you how to fix damaged hair. The ingredients are right there and hence no big investment is required. It's an easy, inexpensive way to fix your damaged hair. Who would have thought of that kitchens ingredients can be this useful! You may be surprised to know that each ingredient in your fridge and kitchen imparts multiple benefits, which can be useful for your hair and skin. Here in this article, let's learn how to take care of damaged hair with home ingredients. Here are some home remedies for damaged hair.
Repair Your Damaged Hair with Avocado

A very common fruit in your kitchen with huge benefits. Mash a ripe avocado with one egg and then apply this mask to your wet hair. Avocados are rich in vitamins, essential fatty acids and minerals that will help restore luster to your dry hair.

Leave this hair mask for damaged hair for 20 minutes and then rinse your hair thoroughly. Repeat once a week for damaged hair and see noticeable results. Next time when you buy avocado just for salads, read our article and think it through. This one fruit has multiple benefits, which can heal you inside and out.

Massage Your Hair with Butter

Butter is the staple ingredient of any household. Did you know butter can be beneficial for your hair? In this method learn how to take care of damaged hair. Butter can add shine and luster to your dry and damaged hair. Treat your dry, brittle hair with a small amount of butter and then see how it makes your hair shiny.

Massage your hair and then cover it with a shower cap for half an hour. Wash your hair with usual shampoo to rinse off all the butter from your hair. Are you enlightened with this piece of information? Now you know how to repair damaged hair with butter. Butter is just not for your bread but it also does a lot to your hair.

Olive Oil the Perfect Hair Conditioner

This is another invaluable idea for hair care for damaged hair. There are several things, which can help you condition your damaged hair. We recommend you to try this home remedy, which is a full proof method on how to repair damaged hair. This is an inexpensive way to take how to take care of damaged hair and with no side effects. Olive oil is good for your health and also for your hair.

Warm a cup of olive oil and then rub into your hair with fingertips. Then cover your hair with a plastic bag and wrap everything in a towel. Let it sit for 45 minutes and then shampoo your hair.

When Tea Becomes Useful

Well, tea is just not for a sore throat but it can be beneficial to your dry hair. Tea brings out the natural shine of your hair. Brew some unsweetened tea and use it as a final rinse after your regular shampoo. Tea enhances hair colour so choose your tea wisely. For people having black hair, black tea is useful and for blonde hair use chamomile tea. It enriches the hair colour and also enhances the shine. Have you ever thought of tea could be so useful for your hair? Now you can think of the easy way as how to fix damaged hair.

Apply Apple Cider Vinegar Hair Mask for Damaged Hair

Apple cider vinegar is a must-have in everyone's home. One of the best and easiest ideas on how to repair damaged hair. Give life to your damaged hair with this awesome home remedies for damaged hair.

Combine 1 teaspoon apple cider vinegar with 2 tablespoon olive oil and 3 egg whites and then rub the hair mask for damaged hair. After applying, keep your hairs covered for about half an hour using a shower cap then shampoo thoroughly. In one application, you can witness its magical result.

Make a Shampoo omelet

Don't get confused with this. It is a very easy way to hair care for damaged hair. Mix one egg with a small amount of shampoo and then apply to your damaged hair for five minutes and rinse well. This particular hair mask for damaged hair will enhance the protein in your hair making it strong from root to tip.

Botanical Oils To the Rescue

These oils are available at any store. Olive oil, jojoba and sweet almond oils are wonderful elixirs for damaged hair. Even coconut oil works great on thick and heavy hair.

Dampen your hair and apply small amount any of the botanical oils and massage it thoroughly. Top off with a shower cap and a warm towel for about 30 minutes then rinse and shampoo as usual. This hair care for damaged hair method will not only enhance the quality of your hair it will also make softer and smoother.

Dabur Almond oil possesses this quality and hence it also works wonders for your hair. This oil is enriched with Vitamin E and other nutrients which make your hair stronger from root to tip, softer and shinier.

Sandalwood Oil for Instant Sleekness

Mix few drops of sandalwood oil with a few drops of olive oil and rub this mixture between your palms and then smooth it through the ends of your dry hair for instant sleekness. This way you can curb and condition brittleness and fly way hair in a jiffy. If you are in a hurry and don't have the time, make your hand lotion useful for your hair. Take few drops of hand lotion in your palm and smooth it through damaged hair. There you are done! What an easy learning on how to fix damaged hair.

Wrap Instead of Rub

When your hair is damp don't rub it with the towel, instead wrap the towel and let it sit there. Within 10 minutes towel will soak all the water from hair and without causing any damage.

Did you know about this? I bet you didn't, follow this simple rule and see the change. Another invaluable idea on how to repair damaged hair!

Let Your Hair Down, At Times!

We know how much you are concerned about your hair. We realize that you want to protect your hair and that's why you keep it binding. Hey!! This is also not good. If you keep it binding all the time, your hair will not feel free. Give it a break and let your hair down sometimes. Never do a tight ponytail or sleep with any accessories. This will damage your hair more. A pro-tip on how to repair your damaged hair!

Above is a list of home remedies for damaged hair that you can try to repair your damaged hair. These methods of hair care for damaged hair are full proof and with no or low expense. With these methods, you know how to repair damaged hair. The ingredients are mostly homemade which we use daily but never knew that this could fix dry, damaged hair so easily.
Read Also:
Amazing Ginger Benefits For Hair
Mayonnaise Hair Masks And Packs
*
Fields are required. Make some cool noise, please don't spam and your voice will be heard.
Was this Article helpful?