The Natural Bridal Beauty Tips
The Natural Bridal Beauty Tips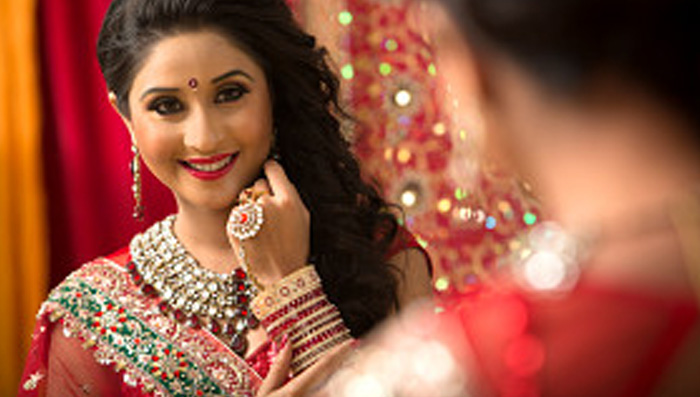 Congratulations! You just got engaged, you're all excited to say "I do", and you want to look your best on your D-day. Because no bride-to-be would want to look anything but flawless on her big day, here's a guide on how to make a picture-perfect wedding album.
First things first, it's essential to plan your life so you don't end up being the much-dreaded Bridezilla.
Natural beauty tips when you have 6 months to go
With six months to go for your wedding day, you have plenty of time to start a new beauty regime or clear up any hair and skin problems you might already have. What you also need to do is start leading a healthy lifestyle. Amp up your drinking water and green tea consumption, it helps you to detox. Join a yoga class, it helps you tone up, distress and keep your mind calm. Plan a natural beauty regime early, keeping your skin type, hair type and skin problems in mind. Spend a few minutes every day to pamper yourself, because when all eyes are on you during the ceremonies, it will be worth it.
Tips for glowing skin when you have 3 months to go
Smart brides always book natural beauty treatments well in advance. Nobody wants to be caught with no appointments available for manicures, pedicures, facials, etc., during the busy wedding season. Don't take DIYs lightly either. Incorporate home facials using Gulabari rose water to keep your skin soft and supple, also indulge in regular bleaches using Fem Gold crème bleach to keep your dark spots and tan in control. All this will make sure your skin is well cleansed and taken care of so breakouts are less likely to occur closer to the big day. Hands and feet are important too. So make sure you use exfoliate using a pumice stone and moisturise using Gulabari moisturising lotion.
Tips for hairfall when you have just 1 month to go
Now that you have all your skin problems sorted, it's time you took care of your tresses. If "How to stop hair fall?" is the top question you have in mind, keep reading. Make sure you deep condition your scalp every week with Dabur Vatika Enriched Olive Hair Oil. The olive extracts with almond protein and aloe vera not only reduce hair fall by 50%, it also make your hair 2x silkier and bouncier. Then follow it up a good hot oil massage session with a mild shampoo like Vatika Henna Olive shampoo. It has the perfect balance of natural ingredients like henna, green almonds and shikakai that will turn your dull hair, smooth and silky without damaging them.
Last but not the least, remember, there's nothing more beautiful than natural beauty. So relax, enjoy your big day, flash that beautiful smile at the cameras, and trust us, you will look every bit of that perfect bride you always dreamt of being.
Read Also :
Home Tips For Long Hair
​
*
Fields are required. Make some cool noise, please don't spam and your voice will be heard.
Was this Article helpful?