3 Homemade Body & Face Scrubs for Glowing Skin
3 Homemade Body & Face Scrubs for Glowing Skin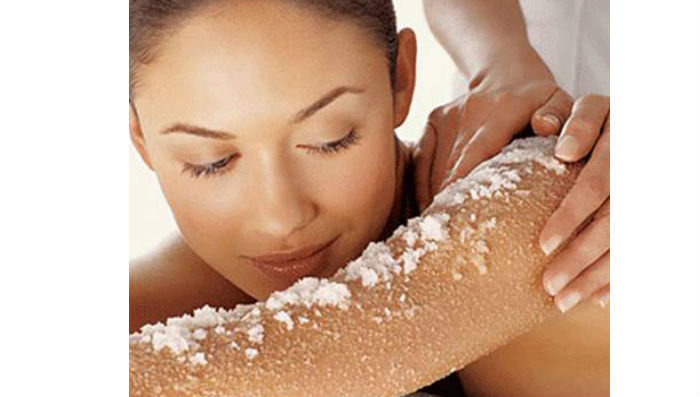 Most of us tend to take a lot of care for our facial skin but overall healthy skin counts too. Rough, scaly, dull skin on the hands, feet or your back doesn't give a good impression. We are sure just like your face; you want your body skin to be as healthy and glowing. The easiest way would be to take care by using moisturizers daily to hydrate the skin and body polishing scrubs. These scrubs will guarantee that your body will be smoother and devoid of dead skin cells, rough, flaky skin. So here are some natural skin care tips and body polishing scrubs for you to achieve a healthy glowing skin.
Honey, Lemon Juice and Sugar
This is the quickest and most effective polishing scrub that can ensure your skin will glow once you are done with this. To make this, you will need a cup of honey, one lemon and half a cup of sugar. Mix sugar and honey and squeeze the lemon. Use this mixture to scrub and exfoliate your body with gentle circular motions concentrating more on the parts that are dry, flaky and rough like knees, elbows, heels, etc. To get aid in the massaging you can splash some water first before slathering on the polishing scrub.
Once you are done you would have effectively taken off the dead skin layer due to which the younger and healthier skin will be exposed that is glowing and healthier. The flakiness and dryness will be gone, skin will be fairer, you will just have to incorporate this scrub into your regimen at least twice a week. You can later thank us for the glowing fairer skin that you can flaunt with the help of this quick fairness tip.
Honey, Oatmeal and Sugar Scrub
Take half a cup of honey and add rose water to it and some sugar. Apply it all over the body to reveal a
healthy glowing skin
. You can use a good rose water like
Dabur Gulabari Rose Water
to give you fresh natural rose-like skin. This would be an ideal scrub for sensitive skin as oatmeal gently cleans and sloughs off dead skin cells. Skin feels softer, firmer with this. Don't believe! Try it! <
Banana and Sugar
Now before we share this recipe you need to promise that you will not eat it up as banana and sugar combination sounds and tastes delicious. Anyways, take a banana and mash it, mix a table spoonful of sugar. Your banana body polishing scrub is ready. We are not done yet. Squeeze a lemon into as it's always good to exfoliate and detan at the same time. Use this as a body scrub that feels luxurious while using and gives great results. Banana hydrates the skin and sugar exfoliates gently while lemon will lighten the skin and any marks on the body. This can be tried daily but sticking to thrice a week would be enough.
Now that you know how to make body polishing scrubs you should not make any excuse for dry, rough scaly skin.
Image Credits 1
Also read about
homemade face scrubs for glowing skin
---
Categories
Blogger Profile
Blog Archive
Was this Article helpful?