How To Do Manicure at Home
How To Do Manicure at Home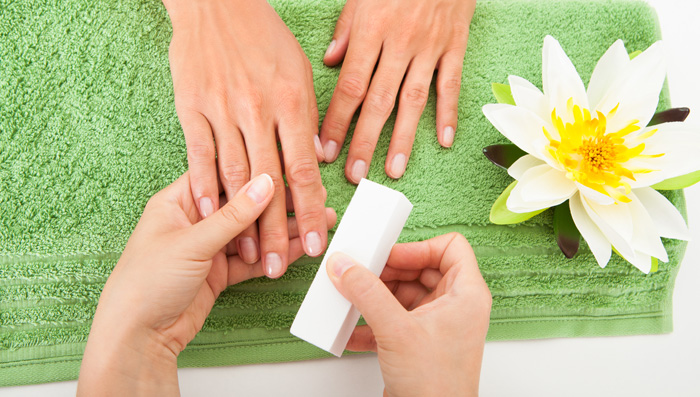 Lustrous nails are a sign of healthy living and one of the first things that is noticeable about a girl. If you wish to exhibit the same, then look no further because this beauty tip for girls will definitely help in saving an expensive visit to a salon. We will teach you how to get a perfect manicure at home in ten simple steps. It is not only important for looking good, but also essential for the skin care of your hands as most of the daily work is done by your hands and a lot of chemicals that you are exposed to may not be skin friendly.
Step 1: Rub a cotton pad dabbed in nail polish remover to remove any previously applied nail polish or dirt.
Step 2: Dip your hands in warm water for about 5 minutes and add a bit of your gentle face cleanser to the water. It will help in filing the nails easily by softening them.
Step 3: Cut your nails to the desired length.
Step 4: Shape your nails using a nail file. Then file them in one direction towards the centre of the nail instead of going back and forth as it can damage your nails.
Step 5: Apply a tiny drop of cuticle oil into each finger and massage them in a clockwise/anti-clockwise direction. Alternatively, you could just use olive oil or jojoba oil which you use for skin care.
Step 6: Gently push the cuticles back using the flat end of a cuticle pusher.
Step 7: Moisturise using like Dabur Gulabari moisturing lotion. Massage it into the cuticles and all over the hands to hydrate and replenish moisture as a part of your skin care regimen.
Step 8: Now this step is very important. It's a priceless beauty tip for girls. Apply a clear base coat on each nail. It helps in making the application of nail colour smooth.
Step 9: Apply any nail paint of your choice. Reapply a second coat when the previous coat gets completely dry and finally a quick drying clear top coat on each nail. It helps the nail polish last longer.
Step 10: Reapply like Dabur Gulabari moisturing lotion on your hands. Keeping your hands and the nail area healthy requires moisturising from time to time.
We are sure that using this beauty tip for girls, you can easily get a salon style manicure at home. It will save you time and money and pamper your hands - something which skin care demands. The best part about it is the ease with which you can get all the required tools. Remember to sterilise your tools using before using them each time. It will keep you free from any possible infections. Now go on and give your hands some extra skin care.
---
*
Fields are required. Make some cool noise, please don't spam and your voice will be heard.
Was this Article helpful?