7 Simple Tips for Glowing Skin in Summer
7 Simple Tips for Glowing Skin in Summer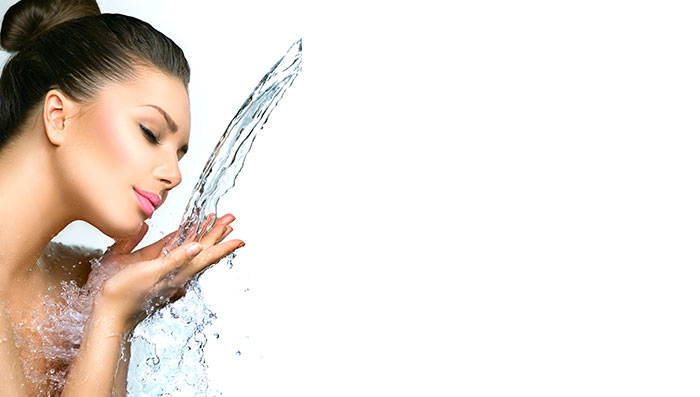 If your skin has started to feel harsher than a baby's bottom, then you're very well aware of how miserable dry skin can be. Dry skin can cause all sorts of problems, including peeling, flaking, cracking, redness and itching. But the good news is you can avoid that uneasy parched feeling by taking time to keep your body well hydrated from the inside out. Just follow these effective skin care tips for glowing skin to keep your skin soft, supple and radiant all summer long.
Regular Exfoliation
Exfoliate your skin at least twice or thrice a week, to remove dead skin and improve blood circulation to the face. Make any of these scrubs at home or try this simple tip for glowing skin – take 4 to 5 tablespoons of gram flour, a pinch of turmeric powder, 5 – 6 drops of rose water and milk or yoghurt. Mix all the ingredients into a paste and use it to exfoliate your face. Apart from making your skin smooth, it helps absorb the beneficial ingredients of the face moisturizer more easily.
Daily Moisture
Moisturize your skin using Dabur Gulabari Moisturising Rose Lotion during the day and night as it is very essential to keep your skin hydrated. Deriving its power from rose, this lotion will help your skin in the rejuvenation process by retaining moisture, regulating tissue repair thus keeping the skin soft and supple. Although water-based products boost hydration, it is advisable to use them as a part of the morning routine.
Hydrate with water
The best way to keep your skin hydrated without adding those extra calories is by drinking plenty of water. Keeping skin hydrated is essential all year round, especially the summer months when a lot of body fluid is lost through sweat. Therefore increasing consumption of water by a couple of glasses a day really makes a huge difference. However, if you find drinking plain water boring, mix things up a bit by adding freshly squeezed lemon or lime juice and gobble up.
Well-Balanced Diet
Give your body and skin the essential nutrients that it craves for with a well-balanced diet. Indulge in fresh fruits and green leafy vegetables, as they are naturally high in fluids and offer the benefit of fibre, vitamins, minerals, as well as antioxidants, all put together. Besides, the high fluid content in these fruits and vegetables is more easily absorbed by the cells than drinking water. These tips for glowing skin, keep the skin hydrated at its best.
Sunscreen Protection
The best way to protect skin every time you step outside in the summer sun is by using sunscreen every day. Applying a sweat-proof sunscreen lotion with a moisturiser that has a sun protection factor (SPF) of 15 protects against UVA and UVB rays and keeps it healthy. Therefore, you should apply sunscreen 15 to 30 minutes before stepping outside. Sunscreen should always be reapplied after contact with water or after exercise as it makes the sunscreen less effective.
Protect your Eye and Skin
Wearing sunglasses, a broad rimmed sun hat or carrying an umbrella should protect skin and eyes from the blistering summer heat.
No Alcohol/Aerated Drinks
With no benefit in terms of nutrition, alcohol, caffeine or aerated beverages only provide empty calories and a bloated stomach. Sweetened coffee, as well as fruit juice with added sugar should also be limited.
So close your eyes and follow up on these
how to get glowing skin
to stay hydrated and moisturised all summer long! Read our blogs to know more about how to get glowing skin and
tips for glowing skin in summer
.
---
*
Fields are required. Make some cool noise, please don't spam and your voice will be heard.
Was this Article helpful?