4 Easy Step Daily Routine for Glowing Skin
4 Easy Step Daily Routine for Glowing Skin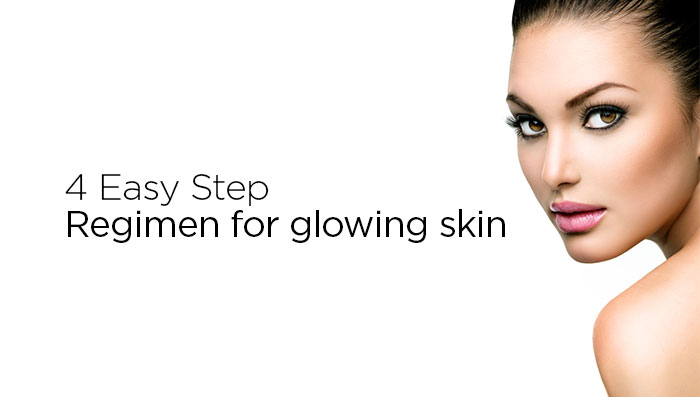 In order to keep your skin looking evergreen as ever, all you need is a proper skin care tips. Let us guide you step by step on how to properly cleanse, exfoliate and moisturize your skin without paying a visit to the beauty salon.
Firstly, you need to understand that how you care for your skin is completely dependent on the skin type you have – oily, normal, combination, dry, sensitive or sun- damaged. Once you've figured that out, you can easily manage your skin by using appropriate products and following these skin care tips to make it as healthy as ever.
Cleanse

Find a good cleanser that your skin responds well to, and stick with it. You can use a deep pore cleansing lotion if you have dry skin or a face wash if your skin is acne-prone. It's important to remove signs of dirt, grime and pollution every day. However, be careful not to cleanse too often. When you wash your face too often or use harsh cleansers, you tend to strip all your natural oils, which is not a great thing. Don't wash your face more than two times a day; in fact, washing your face at night is most essential to remove makeup and sunscreen, which tends to clog pores.

Exfoliate

Exfoliation is the step most people skip in their weekly skincare routine. But, if you start properly exfoliating your skin, you will notice an almost immediate difference. Did you know that one of the reasons men's skin looks more youthful than women's is because men tend to exfoliate when they shave. You can buy a great scrub or make your own. You can try out this skin care tip using brown sugar and coconut oil. Make a face and body scrub with sugar and oil, take a washcloth, apply a dab of cleanser and a sprinkle of white refined sugar on a damp washcloth and massage your skin in circular motions. After a quick rinse, any sign of dead skin is erased. If you have dry skin, try extra virgin coconut oil for glowing skin.

Moisturize

How much to moisturise? Your skin will tell you! Yes, really. When your skin is tight, it's crying out for moisture. Be careful not to over-moisturize as this can clog pores. But nothing beats a good oil for your skin. You can use extra virgin coconut oil, olive oil, sweet almond oil or jojoba oil as an overall body moisturiser. Are eye creams necessary? Well maybe. Some beauty experts strongly recommend eye creams. If you have dry skin, consider cold cream or a lighter hydrator like Dabur Gulabari Moisturising Rose Lotion, enriched with natural rose oil and key actives, which gently work on your skin, giving it a rose-like glow.

Apply Sunscreen

The major cause of uneven skin and wrinkles is sun damage, so it's important to use a sunscreen of at least 30 SPF every day. A great trick is to purchase two moisturizers: One for night and one for day that includes UV protection. Don't use moisturizers with sunscreen at night, the ingredients are not meant to be used all night and can aggravate the skin. Read this article to know more about SPF.
Stick to the regime and glowing skin will be yours! If you have a skin care routine you swear by, let us know in the comments section.
Click here for more
homemade remedies for fair skin
.
---
*
Fields are required. Make some cool noise, please don't spam and your voice will be heard.
Was this Article helpful?