10 Beauty Benefits Of Coffee
10 Beauty Benefits Of Coffee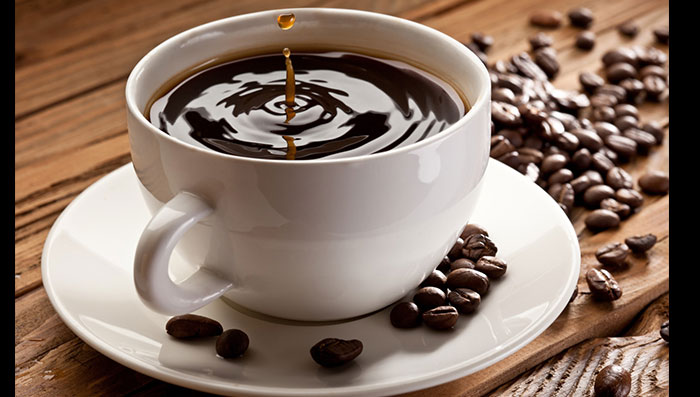 A good cup of coffee can do more wonder than you can imagine, from jumpstarting your day to keeping you awake. What's more, contrary to popular perception, coffee is also packed with a whole lot of health benefits – it's good for your liver, reduces the risk of diabetes, sharpens your brain, aids in weight loss, improves cardiovascular health and has anti-cancer properties. But did you know that coffee is loaded with many beauty benefits too? Packed with antioxidants, coffee can prevent premature skin aging, decrease the risk of skin cancer, improve hair growth and stimulate roots, etc. What's more, it is also increasingly being used in many beauty products, so read on for a few
skin care tips
and
hair care tips
to understand how to make the most of a cuppa.
Hello, silky smooth skin
Coffee grinds make a great skin exfoliator! Try this skin care tip – mix coarsely ground coffee beans with brown sugar, a few drops of vanilla extract and a spoon of Dabur Gulabari Rose Water. Now use this all-natural body scrub once a week to remove dead cells and get smooth, supple skin. However, don't follow this skin care tip on your face; the mixture might be too harsh for your facial skin. The other good thing about scrubbing is that it reduces the appearance of cellulite and firms up your skin, thus giving you smoother skin.
Erase puffy eyes and dark circles
Coffee doesn't just wake you up, it also wakes up your eyes by reducing puffiness, inflammation and constricting blood vessels that cause redness. That's not all; the caffeine rich in antioxidants also eliminate dark circles.
Free radicals fighter
Did you know that free radicals can cause premature skin ageing? Yes, the antioxidants in caffeine eliminate the appearance of wrinkles, dark spots, fine lines and make your skin look supple and elastic, thereby improving the overall look of your skin.
Inflammation soother
Packed with anti-inflammatory properties, caffeine is effective in reducing inflammation. Thus your complexion gets better and you have flawless and even-toned skin.
UV damage, repaired
We all know that one of the biggest reasons behind skin damage is exposure to UV rays. But what's not very well known is the fact that caffeine is considered a stronger antioxidant than polyphenols which go into green tea, therefore coffee combats UV damage quite effectively.
Hair growth, simulated
As per a recent study, coffee, a stimulant for hair follicles is known to increase the growth of hair follicles by a whopping 46% and extend the life cycle of a strand by 33%. Both the findings make this ingredient a great hair care tip for those suffering from hair fall.
Hair so manageable
What caffeine does is that it strengthens the hair shaft and adds a natural shine to your hair, thereby making it more manageable.
Tan Removal
Want to know how to remove tan with coffee? Just create a face pack which includes 1 tbsp of coffee powder, 4 tbsp of coconut oil and 2 tbsp of brown sugar. Scrub the mixture for 2 minutes and then rinse with cold water.
So go ahead, grab that cup of joe and enjoy its many beauty benefits. However, remember that too much of anything isn't good and the same holds good for caffeine. Limit your coffee intake to under 2-3 cups a day as an excess of caffeine can have adverse health effects like insomnia, dehydration, increase in blood pressure and blood sugar levels, etc.
If you found this article useful, let us know in the comments section and if you're not a coffee person, read about the beauty benefits of tea instead!
Image credit
---
*
Fields are required. Make some cool noise, please don't spam and your voice will be heard.
Was this Article helpful?