Top Ways to Use Olive Oil for Hair Growth
Top Ways to Use Olive Oil for Hair Growth
24 May 2018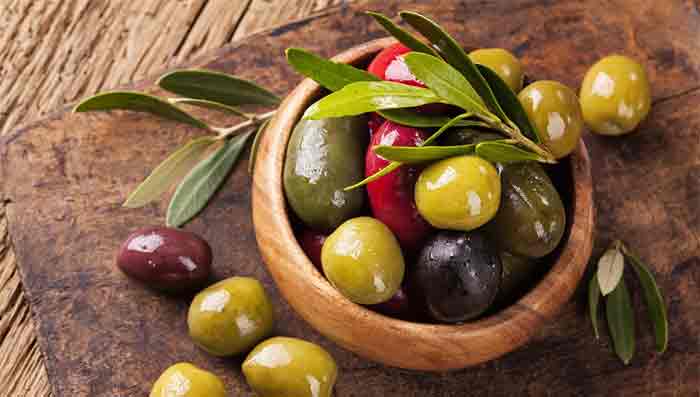 It's safe to say that hair can make or break your day! Since hair is such a sensitive issue, proper care and attention is necessary. Apart from visiting your trusted saloon every once in a while, every day hair care can go a long way in giving you gorgeous hair. Massaging your hair and scalp with a nourishing and hydrating hair oil is the best home care treatment that you can pamper your tresses with. And if your choice of hair oil is olive oil, then rest assured, you are bound to get nourished, bouncy and shiny hair.
Benefits of olive hair oil for hair growth:
It revitalizes your strands
Provides the scalp with essential fatty acids, omega 6 & other essential nutrients
Adds a natural shine & bounce
Prevents hair loss
Beneficial in treating baldness (it slows down the process of DHT hormone formation in the body. Excess amounts of the DHT hormone makes hair follicle shafts shrink and causes hair to grow thinner over a period of time)
Moisturises & strengthens the hair follicles and strengthening them
Prevents dryness & hair breakage
Works as a natural conditioner for hair
Rich in anti-oxidants, it helps clear out scalp conditions like dandruff, infection & lice etc.
Gives all the required nourishment & care that enables the hair to grow long, strong & lustrous
How to use olive oil for hair growth:
Having a healthy scalp is the foundation for strong hair growth. Finding the right solution for hair loss is imperative. So here is a list of easy to try at home remedies with olive oil that will ensure your hair gets strengthened from within and shine with health on the outside.
Note:
These olive oil home remedies recommend use of Vatika Enriched Olive Hair Oil . If hair problems and flaky and dry scalp is causing you hair woes, then using this olive hair oil will deeply moisturise and condition your scalp. Its regular use strengthens hair follicles and reduces hair fall by almost half. As a non-sticky hair oil, it adds a natural shine and bounce to the hair making them look gorgeous and ramp ready at all times.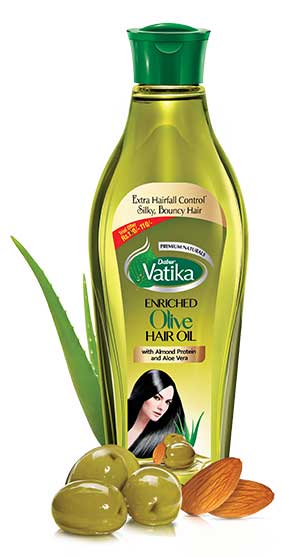 Olive oil, cinnamon & honey hair pack:

Cinnamon and honey together are a potent mix for treating hair loss. Cinnamon enables circulation of blood in the scalp thus strengthening hair follicles and stimulating growth of new and fresh hair.
To 1 tablespoon of cinnamon powder, add a dollop of honey and 2 tablespoons of olive hair oil and mix well. Apply all over the scalp and hair from root to tip. Let it rest for 20 minutes before rinsing it off with a mild shampoo. This hair pack is one efficient way of using olive oil for hair growth.

 

Egg & olive oil hair pack:

Stimulate the growth of your hair follicles and add softness & shine to your hair with this awesome blend of egg and olive oil. To 1 egg yolk, add a tablespoon of lemon juice and half a tablespoon of olive hair oil. Apply the pack on your hair and let it dry for about 15 minutes. Wash your hair with a mild herbal shampoo followed by a conditioner. Apply this pack once a week to reap the benefits of olive oil for hair growth.

 

Olive oil & banana hair mask :

Pick a ripe banana and mash it into a paste. To it add 2 spoons of olive oil and blend the mixture well. Apply it on your scalp and leave it for 15 minutes. Wash with a mild shampoo and conditioner. The sugar & pectin will keep the moisture intact, make your hair strong and prevent them from breaking.

 

Olive oil & avocado hair mask:

Avocado is full of mono-saturated fats and vitamins which are beneficial for scalp and hair growth. Pulp 2 spoons of avocado and add a tablespoon of olive oil to it. Mix the two well and apply the paste on damp hair. Leave the paste on for about 20 minutes and then wash it off with a mild shampoo. Apply this effective hair remedy at least once a week to reap the benefits of olive oil for hair regrowth.

 

Olive oil & garlic hair oil massage :

The combination might sound odd but trust us when we say that garlic does work as a treatment for regeneration of new hair. Massaging your hair with this concoction increases blood circulation to scalp thus preventing your hair from falling and breaking. To make this concoction:

Crush 4-5 cloves of garlic and mix it in 3 tablespoons of olive oil
Boil the mix for 5 minutes or till the garlic turns brown
Allow it to cool before massaging your hair and scalp with it
Leave the oil in the hair for an hour
Rinse off with a mild shampoo
Repeat at least once a week for better results

Olive oil & cayenne pepper :

This is no recipe to marinade your chicken or prawns but to increase the blood circulation to your scalp and encourage growth of silky, smooth and soft hair. To make this effective hair mask, heat ½ cup of olive oil and add 1 teaspoon of cayenne pepper to it. Make sure the mix is free of lumps. Allow it to cool before massaging your hair and scalp with it in circular motion for 5-10 minutes. Leave the mix in your hair overnight and wash it with a mild shampoo the next morning. Repeat at least once a week for better results.

Olive & coconut oil massage therapy :

This is by far one of the most common and simple remedies for hair growth. Take 2 spoons of olive oil along with 2 spoons of Vatika Enriched Coconut Hair Oil . Heat the mixture and give yourself a nice, soothing massage. Leave it overnight and wash with a mild shampoo and conditioner the morning. Your hair will not only look marvellous, they will feel soft & rejuvenated too.
Read More Tips On:
Tips for Dry and Damaged Hair
How to Get Shiny Hair
Healthy Hair Tips
How to Stop Hair Fall
How To Remove Dandruff
Hair Care
Long Hair Tips
Hair Oil
​​
---
*
Fields are required. Make some cool noise, please don't spam and your voice will be heard.
Was this Article helpful?