Dabur Gulabari- Rose Water, Freshner, Moisturising Cream
The promise of rose like glow
The range of Dabur Gulabari products encapsulates the essence of rose and converts it into endless benefits for your daily skincare regime. These products nourish your skin, refresh it & leave it feeling enlivened and youthful.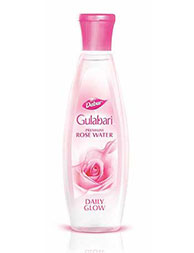 Dabur Gulabari Rose Water
Replace water with Dabur Gulabari rosewater in your daily skincare regime for refreshing makeover.
Dabur Moisturising Cream
Dabur Gulabari moisturising cold cream with natural rose extracts derives its goodness from Dabur gulabari rosewater. Regular use of Dabur Gulabari moisturising cold cream helps your skin in 3 ways: Maintains moisture balance: It is enriched with rose oil & glycerine which helps maintain the skin hydration balance giving it a soft & supple feel without leaving it oily. Protects skin: It is enriched with pro vitamin E which helps protect your skin against skin damaging elements leaving it soft & untouched. Gives radiant glow: It is enriched with natural rose extracts which helps remove dryness & dullness giving your skin a rose like radiance. For skin that blushes with glow.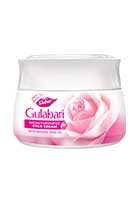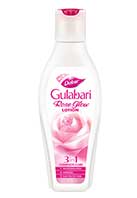 Dabur Moisturising Lotion
Dabur Gulabari Rose glow lotion is enriched with the goodness of rose extracts & rose oil. It helps the teenage skin in 3 ways: Moisturises your skin to keep it soft like a rose, gives naturally fair & glowing skin, protects from harmful effects of the sun.
Dabur Gulabari Rose Freshener
Dabur gulabari premium rose touch face freshness gives you that unique rose like anywhere, anytime by cleansing, moisturising and refreshing your skin.